Having been playing since the first Berlin beta, here are some suggestions of what can/should be improved regarding tanks:
1. Tank crosshairs colors
as already pointed out in other threads, red-green-yellow is impossible to distinguish for quite a few people (up to 8% of Norh-European male population), myself included, just let me customize them to colors which I can see;
2. Binoculars/observation devices
would be great to be able to look around the tank as a commander without peeking out or rotating the turret itself (I believe binoculars are available in WT?), those were equipped not only on the likes of Tigers but even BA-11s;
3. Commander freelook
speaking of peeking out, we need a freelook button that would lock the turret rotation and simply let the player look around with the commander's head without losing turret positioning (e.g. by holding C);
4. Commander pose/animation
furthermore, speaking of commanders peeking out, would be great to have at least some kind of animation for going in and out of the hatch, currently tank commanders can go up and down like it's a whack a mole game;
related to this, would be great to have the commanders not "standing to attention" with their hands on their sides when peeking out but rather have their hands hold on to something, it just looks silly:



5. Hull MG
the Radio Operator/Machine Gunner in tanks currently does nothing, and the front facing hull MG found on most WW2 tanks is currently unused, and it's currently impossible to kill/suppress the enemy in front of your tank if the turret is looking elsewhere, would be a great addition if we could press 5 and switch to the hull machine gunner position;
6. Collisions with objects, flickering on terrain and trenches
self explanatory, may be the engine's limitation, but it is still very annoying to be stuck on trenches, collide with tiny rubble and have your tank flicker in seizure when the surface is a bit bumpy;
7. Separate controls for turret-mounted MG
for tanks with turret-mounted MGs it would be great to be able to grab it as the commander who has peeked out of the hatch and aim it separately from the movement of the turret (within its traverse limitations and being exposed to headshots, on the other hand);
8. AP/smoke grenade launchers
would be great to have such launchers on tanks which had them (e.g. Pz IV, Panther, Tiger - Nahverteidigungswaffe) to fire AP mines up in the air against nearby infantry or smoke grenades for cover;
9. Flickering bug when changing seats
pressing the tank seat key you're currently occupying causes screen blinking;
10. Stars, crosses, turret numbers
basic tank markings even with random turret numbers (with fancy customization saved for monetization, I get it) would make land vehicles look much more authentic and bring them in line with the airplanes' decals quality at least;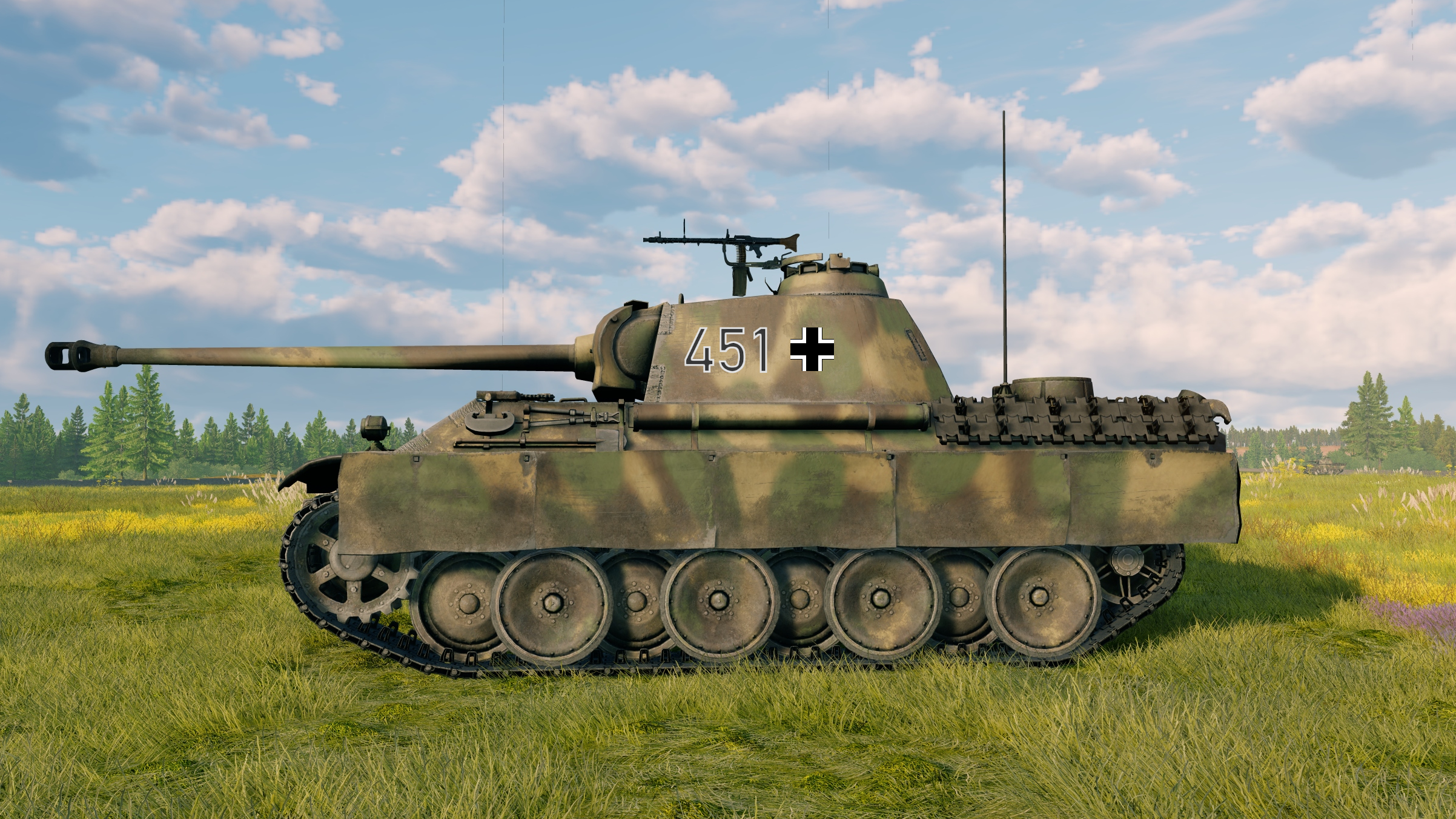 11. UPD Tank resupply stations in Invasion
If tanks can resupply in Conquest and planes can resupply at all times, why not tanks in Invasion?
For balance reasons and not to facilitate grey zone camping we can make the resupply take a while and locate the stations at a far location so that the journey back and forth takes some time, but the stations need to be available at every sector of the attack in Invasion;
12. UPD Tank-specific sights and engine sounds
Goes without saying an armored car like BA-11 shouldn't sound like a Panther or have the same optical sight.
Disclaimer: I am not looking to make the tanks OP, so everything above that isn't a bug can be tweaked for balance with numbers of use/cooldown/pros and cons.
If anything of the above is already present in the game and I somehow missed it in the menus, please let me know.
Thanks!