It's no secret that the Enlisted community is full of talented players who can impress all of us, so, we're pleased to announce an exciting new tool to help you unleash your creativity.
In the next major update, we'll be introducing a powerful mission editor and an in-game mod portal, where talented authors will be able to share their creations with the community - and most importantly, player-created missions will be available to play in multiplayer battles!
MISSION EDITOR
As part of the Enlisted game client, this is one of the tools we use when working on the game, and it will be available to all of you. You'll find the modsEditor.bat right in the game directory when the major update is released.

We will expand the features of the editor over time, but even in its current form, its functionality offers a lot of possibilities!
You can take any Enlisted location as the core of your mission and transform it beyond recognition by changing the landscape, and by moving, adding or removing any objects you like.

The editor allows you to not only customize key features like respawn points and capture points, but also to create missions with unique rules. You can allow for infinite respawns, limit the number of respawns per team or forbid respawns entirely for the same squad more than once - and of course, you can set the boundaries of the battlefield too.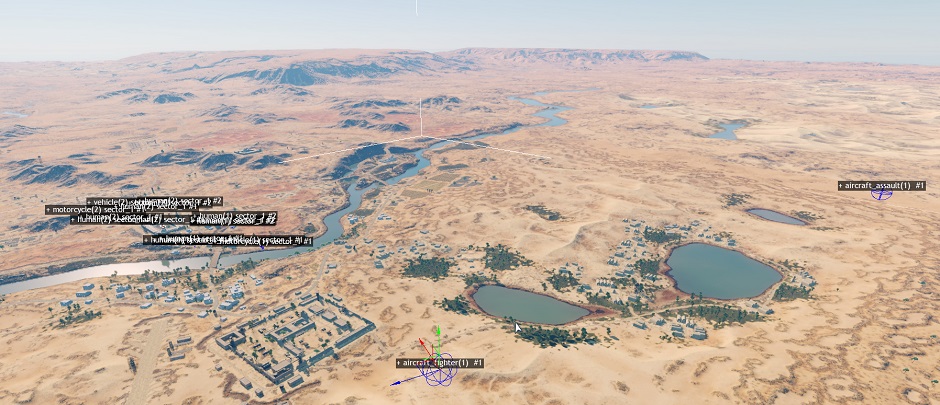 You read that right: you'll be able to create a mission on a large map, taking players through several distant cities. And that's just one of the many possible ideas that you can play around with, we're certain that you and your friends will create a lot of fun and unique scenarios with the new editor!
MOD PORTAL
The place where authors and players meet. It will be launched with our next major update and soon after expect thousands of interesting game mods, the first of which will be cool missions!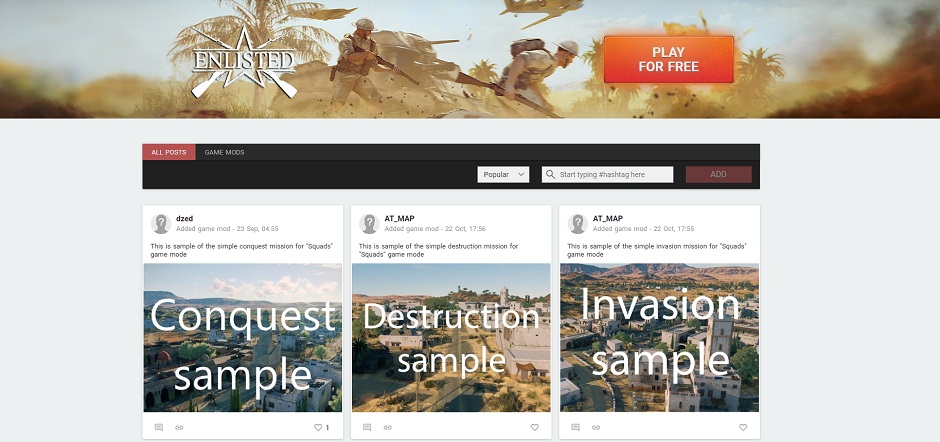 Post, comment, like, and, of course, download and run custom missions in online battles!
We also invite authors to join forces in a special section of the forum: share your experiences, as well as discuss and offer ideas for further developments we can make to the editor - we read everything.
GUIDES
We've worked out the main questions for you step by step: "how to create a mission?", "how to upload it to the portal and launch it in the game?".
Click on one of the links and become a true master of your mods. If you're just interested in trying out the mods however, here's a little guide on how to start a custom mission in the game.
You'll be able to launch a user mission after pressing the "Create Game" button in the Custom Matches window, and then by following these steps.
Click "Mods" in the game creation window.
Paste the link to the mod (you can copy it from the mod you like on the portal using the "Copy mod url" button).
Press "Download mission", then select it from the list and start the mission.
A detailed guide is available here. And awesome missions… are coming soon!
---
FAQ
Do the missions run on your server or is my PC hosting the game?
You will have two options for creating a room. Offline — the mission will be available only to you, on your computer, and will not be visible to the other players. Online — the mission will run on our servers, and you will be able to enjoy it with other players. Even if you leave such a battle, it will still be available to others.
Will the economy operate in these missions?
Currently the economy and completing battle tasks and events will be unavailable in the mods. That said, we are considering a separate economy for mods that may be implemented in the future.
Will PlayStation and Xbox players be able to participate in these missions and create them?
You will be able to play user missions in rooms created by the other players. Creating your own rooms with mods and the mod editor are not available on console.
Will we be able to upload our own models to create unique maps and characters?
That function is currently unavailable.
Will we be able to create a battle for more than 20 players in Squads or 50 in Lone Fighters?
No, these are the technical limitations of the game. Currently we can't guarantee the stability of the servers with a higher number of soldiers in battles. But those numbers might be raised in the future if we have an opportunity to do so.
Will we be able to lock a room with a password?
Currently no, but we plan to add this feature to all Custom games so that it will work for mods too.